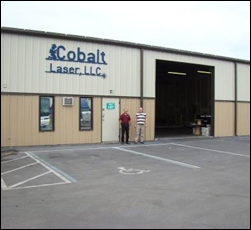 Welcome to Cobalt Laser

Whether you are in need of one piece, or a large production run, Cobalt Laser, LLC can fill the order. Our goal is to become known as the most dependable laser house in the Central Florida area. We are committed to serving the customerís needs. If you need any help related to laser cutting, we hope you will think of us first.

Why Laser?
More and more businesses are finding out that laser cutting has many advantages over machining, punching, plasma, or water jet cutting. These advantages include low cost prototypes and production runs, incredibly quick turn around time, exceptional accuracy and repeatability, the ability to etch part numbers or labels on the material, and extremely clean cut quality. Give Cobalt Laser a try and we will show you why laser cutting is so popular with so many different types of businesses.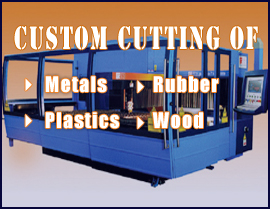 Contact Details
Cobalt Laser, LLC
965 Taft-Vineland Rd.
Suite 107
Orlando, FL 32824
Tel: (407) 855 2833
Fax: (407) 855 2834
Email:dennis@cobaltlaser.com, grant@cobaltlaser.com
Contact Details
Monday - Friday
08:00 AM - 04:30 PM
Closed on Saturdays & Sundays